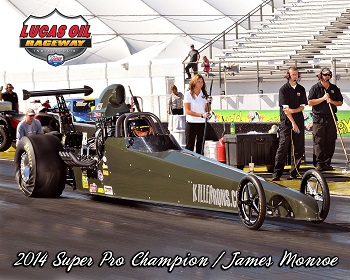 ORIGINALLY A RACE TECH RACE CARS CHASSIS
COMPLETE REBUILD BY KILLERRONS.COM IN 2014 OFF-SEASON
6.00 CERTIFIED NHRA (VALID THRU 2016 SEASON)
240" WHEELBASE
LAVA GRAY POWDER COAT IN 2014 OFF SEASON (FLAWLESS)
DIAMOND RACE CARS FRONT SUSPENSION
DIAMOND RACE CARS CARBON FIBER REAR WING WITH CLEAR COAT
DIAMOND RACE CARS ALUMINUM POWDER COATED WING UPRIGHT
DIAMOND RACE CARS CUSTOM BODY
REMOVABLE SINGLE AND DUAL PARACHUTE MOUNTS
CUSTOM BLOWER FUEL CELL (WILL WORK WITH N/A COMBO TOO)
CUSTOM KILLERRONS.COM DRIVER PROTECTION PLATE
RACE TECH RACE CARS SEAT INSERT
ARMY GREEN PAINT INSIDE AND OUT (FLAWLESS)
FABRICATED REAR END HOUSING
4-LINK SUSPENSION WITH X-LINK
ALUMINUM DRIVESHAFT
AFCO BIG DOG SHOCKS AND SPRINGS
STRANGE ENGINERRING ULTRA-CASE WITH 3.70 PRO GEAR
STRANGE ENGINEERING 40-SPLINE GUN DRILLED AXLES
STRANGE ENGINEERING DUAL BRAKE SYSTEMS (HAND AND FOOT)
FULLY POLISHED CALIPERS AND BRACKETS IN 2015 OFF-SEASON
NEW BRAKE PADS IN 2015 OFF-SEASON IN 201
MONOCOQUE 16X16 REAR WHEELS (BLACK POWDER COATED IN OFF-SEASON)
HOOSIER #2055 REAR SLICKS (LESS THAN 100 PASSES)
NEW WELD ALUMA-STAR FRONT WHEELS IN 2015 OFF-SEASON (BLACK POWDER COATED)
NEW HOOSIER FRONT TIRES IN 2015 OFF-SEASON
TURBO START 16V BATTERY WITH CHARGING LUGS
B&M PRO BANDIT SHIFTER WITH ELECTRIC SOLENOID
BIONDO SINGLE CYLINDER THROTTLE CONTROLLER WITH MOUNTING BRACKET
DIGITAL DELAY MEGA 450 DELAY BOX
DIGITAL WATER AND TRANSMISSION TEMPERATURE GAUGES
MECHANICAL OIL PRESSURE GAUGE
IMMACULATE AND PROVEN SUCCESSFUL WIRING
RPM PERFORMANCE DATA LOGGER (EXPANDABLE)
K&R PERFORMANCE SWITCH PANEL AND RELAY BOARD
BUTTERFLY STEERING WHEEL WITH COVER AND BUTTONS
JEG'S PERFORMANCE REMOTE WATER PUMP
WATER RADIATOR, FAN AND SHROUD
DUAL SIMPSON PARACHUTES
DJ SAFETY BELTS (NEW IN 2015 OFF-SEASON)
BILLET WATER AND TRANSMISSION OVERFLOW TANKS
MOROSO PUKE TANK FOR VACUUM PUMP OR EVAC KIT
HARWOOD SCOOP
FLAT SINGLE 4500 HOLE TRAY
DIAL BOARD MOUNT WITH BOARD
CO2 BOTTLE, REGULATOR AND GAUGE
LED INTERIOR, LED TAIL AND LED HEAD LIGHTS
BLACK HOSES AND FITTINGS THROUGHOUT CAR
This chassis was originally a 2004 Race Tech Race cars design. After a minor front end incident late in 2013 in a $5,000 final round (it won) the car was taken the Diamond Race Cars. It was stripped to the base chassis, a new front suspension was installed and a brand new body was built. The chassis was then completely recoated from front to rear. Once it was was in the KillerRONS.COM shop it was rebuilt using brand new components in almost all places. This car is exceptionally detailed, is one-of-a-kind and doesn't take a "back seat" to any new car. It was raced throughout the 2014 season in the 4.50's with a supercharger and won the Lucas Oil Raceway Park at Indianapolis Super Pro track championship.

Add your engine, transmission, converter, headers and favorite ignition/coil to it and go racing.
All decals removable. It is in complete roller form and many photos available for interested party.
The car weight with aluminum block, supercharger and 200# driver was 1940#. This is not a heavy car so it could be campaigned as a Top Dragster as it satisfies all of the rules.

YOU WILL HAVE TO GO A LONG WAY TO FIND A CAR NICER THAN THIS, NEW OR USED.
CLICK HERE TO SEE MORE PHOTOS OF THIS CAR.
$21,500 FIRM.
There is no urgency to sell this dragster but if you want it for that money give us a call. If not, thanks for looking.