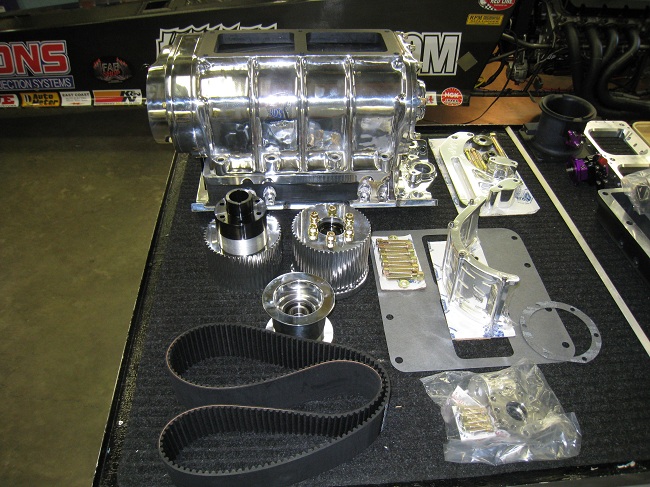 SUPERCHARGING 101
In recent years we have noted an ever-growing amount of inquiries regarding the use of superchargers in sportsman drag racing. The policy at KillerRONS.COM has always been to redirect these inquiries to other sources. The reasoning behind this was solid. We simply do not offer sales and technical support for items that we have not used successfully on our personal race cars. Due to the growing amount of inquiries along with a general feeling that these customers were not being serviced properly we began researching and familiarizing ourselves with supercharger products available in the marketplace. We also examined the products Ron's Fuel Injection offered that could be used in conjunction with such a system. The good news was that our "mother ship" in Arizona already had most of the proper parts in place so it was simply a matter of tweaking and increasing production to meet our future demands. In sourcing supercharger components we were fortunate to align ourselves with Blower Drive Service and The Blower Shop. We feel these companies offers top of the line products at competitive prices. With the knowledge gained on and off the track in 2012 we are taking orders for superchargers and fuel systems to be utilized next season. You can read about some of these projects on the homepage. We have no worries that these racers will be "up to speed" in no time and we hope you follow along as we will make their progress public and hopefully pique your interest in a system.
The problem we came across when we first began researching this program was that it is similar to the fuel injection arena that we work in daily. Nobody spells out plainly the parts needed to put a system together from start to a "turn-key" finish. That coupled with the fact that a majority of the propaganda is devoted to the street enthusiast makes it almost impossible for someone to take the plunge who has limited knowledge of a supercharger. It becomes too intimidating for the beginner so these devices stay relegated to those with existing experience or immediate access to that experience. The secondary problem is that most supercharger salesman will attempt to sell you too much superchager. Well it doesn't need to be that way and KillerRONS.COM is dedicated to filling this void today and in the coming years
A supercharger "blower" purchase should be broken down into five basic parts that we will touch on below.


SUPERCHARGERS
From this point on we will refer to the supercharger as a "blower". There are a few styles of blowers but most bracket combinations that you see running competitively in the sportsman ranks are roots-style units. The roots blower utilizes a pair of rotors that turn away from each other displacing large amounts of air per rotation as they sweep the blower bore. The size, material and profile of these rotors dictate a blower's capacity to move air. A 6-71 blower has a 15" long rotor while the 8-71 has a 16" rotor. Of course, the 10-71 and 14-71 have longer rotors and as you can imagine are more powerful. The most widely used rotor is made from cast aluminum. New on the market in the last few years has been the ability of blower companies to produce billet rotors. These rotors are used in extreme high performance applications and are very efficient due to their very tight tolerances. Whether it be of cast or CNC aluminum the "standard rotor" has a helical twist of 60* throughout its length and is the most common profile used. Relatively new to the market is the "hi-helix" rotor that features a more aggressive 120* helical twist. The hi-helix blower is used for extreme high performance applications and will deliver increased power well above 8,000 RPM without cavitation. Most roots-style blowers use sealing strips to help seal imperfections in the rotors or the blower bore. The strips need replaced occasionally to help the blower operate at its peak efficiency. n most cases KillerRONS.COM recommends utilizing a non-stripped blower for bracket and quick style racing due to its consistency from race to race. The screw-type blower is also popular in racing. It is also of a positive displacement variety but differs from the roots-style in that its rotors turn toward each other in a screw-like fashion. This blower literally compresses air and delivers it into the engine. Due to the tight tolerances afforded between the rotors this is an extremely efficient blower that makes big power. Expense, weight and rule limitations are usually a deterrent for most in choosing this style blower.
The majority of KillerRONS.COM readers should focus on the roots style 6-71 or 8-71 "standard rotor" blower. If all out performance in the ¼-mile is desired and you are typically operating in engine speed's approaching or above 7,500-7,600 RPM you should consider upgrading to the "hi-helix" rotor design. The blowers that KillerRONS.COM will be recommending for most customers will be a "race" type blower that will include a fully assembled and polished 6-71 or 8-71 Stage 2 blower that is internally hard anodized and has cast "standard rotors" and billet end plates. The stage 2 blower will flow more air while producing less heat.
DRIVE KITS
The blower drive kit consists of the pieces required to spin the blower. Kits are made for virtually every engine make and include the blower, gear coupler, drive snout, upper blower pulley, idler pulley, idler mounting assembly, blower belt, crank hub, accessory v-groove pulley (alternator typically), lower blower pulley, bolts, spacers, gaskets and instructions. Most blower companies cater to a street crowd which is the bulk of their sales so there are some minor adjustments that typically need to be made to the standard drive kits. KillerRONS.COM recommends upgrading to 8MM pulleys and belt as well as the competition idler pulley bracket. The 8MM pulley and belt will transfer more power as it eliminates possible belt-slippage at higher boost levels usually seen on the strip. The competition idler bracket will allow you to utilize the engine block rather than the blower snout for mounting your idler pulley. When utilizing the engine block you will still have access to the water passages on the front of the block for engine cooling. In other words your cooling system will operate in the same fashion as it would in a normally aspirated applicaiton although a remote water pump and filler neck may become necessary. A common question we are asked is whether or not a blower engine utilizes a harmonic balancer (damper). The answer is that you can use one but most do not as the blower belt will be sufficient in suppressing harmonics.
INTAKE MANIFOLDS
Like drive kits there are blower intake manifolds available for virtually all engine makes. In fact, there are so many available it becomes confusing deciding which one you might actually need. Once again we recommend a competition version for the strip. On the competition style intake the thermostat housing and water fill neck provision have been deleted so that the blower can set further forward on the manifold. This allows for a shorter drive snout and also the use of a standard distributor rather than an offset version. There are two water passage holes on the front or rear (depending upon the make) of the manifold for engine cooling. The competition manifold also has provisions for port injectors should you ever need them in a higher horsepower application. There will be more to follow on numbers of injectors in the fuel system section of this writing. The competition manifolds are machined for the SFI-23 burst panel kit and will only require at most a port matching to your cylinder heads.
ACCESSORIES
Most sanctioning bodies require that blown engines utilize a belt guard and blower restraints. Belt guards attach to the drive snout. SFI 14.1 blower restraints utilize a thin plate that attaches between the blower injector plate and blower and terminate at the header flange. They are available for $325 to $350 and are affordably recertified every two years. Blown engines produce more blow-by than a normally aspirated engine mainly due to the increased cylinder pressure. The blow-by levels can be reduced by refinements to the pistons, ring package, honing procedures and fuel system set-up. Due to the added blow-by it is necessary to utilize a valve cover evacuation system to allow the engine to breathe adequately. This is typically done with a simple hose at least -12 in size from each valve cover that is dumped into a puke tank and drained after each pass. You can run a vacuum pump on a blown engine if you wish to do so.
FUEL SYSTEM
The fuel system can greatly affect the power output of a blown engine. Blown engines react very favorably to injected alcohol. Mechanical injection gives the user a method to provide unrestricted air to the blower and deliver the correct amount of fuel when and where it is needed. The greatest benefit is that alcohol's cooling effect greatly increases the power potential of a blown engine as it essentially acts as an intercooler that cools the charge. Due to a higher volume of fluid needed for the correct air fuel rations alcohol also assists the rotors ability to seal so the blower operates more efficiently.

If you are new to mechanical fuel injection or have an existing system and are looking to add a blower rest assured KillerRONS.COM has the parts and a tune-up for you. Please fill out the questionnaire found here and we will help guide you in the selection and pricing of the proper fuel system and supercharger components.

KillerRONS.COM offers blowers from Blower Drive Service and The Blower Shop. To view pricing on a new supercharger click here.

If you already own a Ron's Fuel Injection system you will want to read the Fuel System Conversion for a Blower by clicking here.