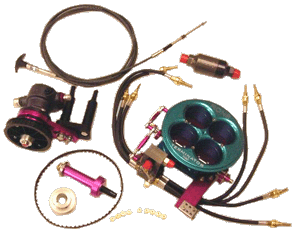 The Ron's Fuel Injection Terminator has been around for over 15 years and continues to grow in popularity as engines become even larger and more powerful. This is our "high-end" throttle body that is machined from 6061-T6 aircraft aluminum. The Terminator system is available from KillerRONS.COM in the two sizes listed below and features the very reliable gear pump as standard issue. These fuel systems are typically set-up for alcohol fuel but can also utilize Ethanol or E85 with a simple tune-up change.

The 1475 CFM (2-1/8" Butterflies) throttle body is utilized on engines ranging from 355 cubic inches up to around 500 cubic inches. It can be outfitted with a "0" or "0-1/2" black gear pump and flowed nozzles typically varying from #33 to #38 in sizing. It is also be used in higher-horsepower dual throttle body applications.
The 2100 CFM (2-1/2" Butterflies) throttle body has became very prevalent due to the increasing cubic inch and higher horsepower engines being utilized today that alcohol carburetors have trouble satisfying. This system has a wide range of uses from healthy small blocks (including SB2-style engines) to 600"+ spreadport engines. The gear pump supplied with this system would be either a "0-1/2" or a "1" in size.
TERMINATOR FUEL SYSTEM - $2,210
Billet CNC Terminator Throttle Body
Combination Barrel Valve, Fuel Shutoff and Pill Holder
Injector Hoses
Nozzle Bodies
Nozzle Jets
Black Gear Pump
Pump Mount and Drive Kit (Most Engines Makes Available and Listed Below)
Shut-Off Cable
Fuel Filter
Assortment of Pills for Fine Tuning
Base Gasket
30+ Page Instruction Manual
Barrel Valve Flow and Initial Tune-up by KillerRONS.COM Technician

AVAILABLE SYSTEM UPGRADES
Braided Stainless Steel Injector Hoses - $85
Billet Twin Gear Pump - $116
Dual Throttle Bodies - $945
Bushed Shafts in Throttle Body - $175
Chrome Plate Throttle Body - $350 (allow 2-3 weeks)
Black Anodize Throttle Body, Levers and Tie Rods - $250
Terminator Return Spring Kit - $28
Pump Saver Check Valve - $96
Inline -6AN Filter - $59
Basic Primer System - $235
Primer Plus System - $460
Track Survival Kit - $62
Terminator Scoop Mount Kit - $185 (add $91 to include extension)
Terminator Throttle Controller Extension Only - $121
Dual Terminator Ring Kit - $150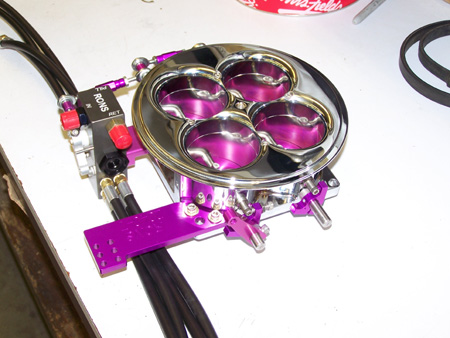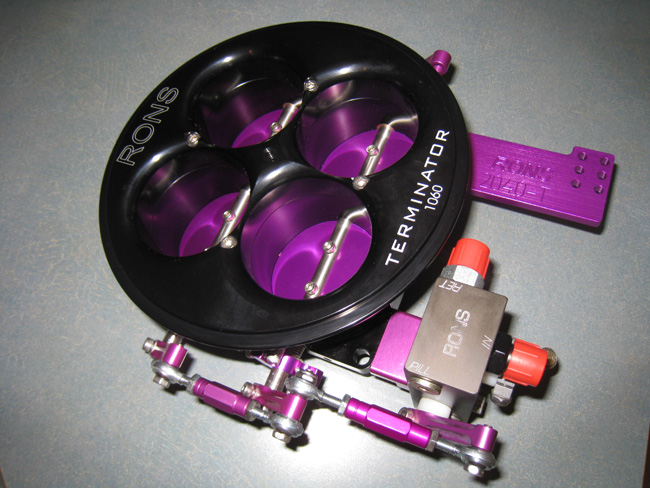 The DUAL TERMINATOR SYSTEM ($3,155) is the choice for cast and sheet metal tunnel ram applications, especially in Top Dragster, Top Sportsman, Quick 8 and Quick 32 applications. This complete system includes all of the components in the Terminator Kit with the addition of a Dual Throttle Body Upgrade. Many add the Billet Twin Gear Pump to this system for an extra $90.



FAST ANSWERS
Mechanical fuel injection operates at very high pressures so there is no worry of "fuel sloshing" under acceleration like with a carburetor. Due to this you can mount the throttle body in any direction on your engine.

The Terminator dimensions are based off of a Dominator. The base flange is a 4500 pattern and the top is 7.250" across. The throttle body is slightly lower in height than a Dominator measuring 2.750".

All Fuel delivery components are hard anodized and alcohol compatible seals are used throughout making the system impervious to the much-debated effects of alcohol on metals and rubbers.

The throttle cable lever comes standard with 1/4-28 thread but the lever can be changed to 10-32 thread if the customer desires. Throttle throw from idle position to wide open throttle is 2.00". The dual shafts are 3/8" in diameter and each shaft features a pair of built-in return springs and curb idle stops.

Recommended base gaskets are JEG'S #16610, Mr. Gasket #58C and Fel-Pro #1903. These gaskets range in price from $3 to $10 and are available on JEGS.COM.

The Terminator throttle body can be purchased individually for $825. The #3014A Combination Barrel Valve can be purchased individually for $297.

Throttle cable anchors and scoop mount kits can be seen here.

The following are links to our various fuel pump mount and drive kits. If you don't see your engine make let us know. SBC High Mount – Gear Pump, SBC Low Mount – Gear Pump, SBC High Mount – Vane Pump, SBC Low Mount – Vane Pump, SBC Aussie Mount, BBC High Mount – Gear Pump, BBC Low Mount – Gear Pump, BBC Low Mount – Vane Pump, BBC High Mount – Vane Pump, SB Ford Bi-Mount –Gear Pump, SB Ford Bi-Mount (Windsor) – Vane Pump, Ford Cleveland Mount – Vane Pump, BB Ford Mount – Gear Pump, BB Ford High Mount – Vane Pump, SB Chrysler Bi-Mount – Gear Pump, SB Mopar Bi-Mount – Vane Pump, BB Mopar High Mount – Vane Pump, BB Mopar – Gear Pump, Pontiac Mount – Gear Pump, Pontiac Mount – Vane Pump
We also have pump mount and drive kits for General Motors LS Series engines.

KillerRONS.COM systems are tailored to your combination by skilled technicians who have championship level experience using these systems. In most cases your unit will ship within a few business days; in some cases the very same day.

Most customers drill and tap their own manifolds following this procedure. If you are uncomfortable with this we can do it for you for $170. Call for instructions if you would like this service.

Need more answers? Visit our FAQ page.