RONS NOZZLE BODIES, NOZZLE JETS, PILLS & INJECTOR HOSES

PILLS
RONS pills (photo on right) are flowed to exact tolerances and are available in sizes from .050 to .140. These pills come in even number increments and are $3.50 each.

NOZZLE BODIES
RONS nozzle bodies are available individually or in sets of eight. Nozzle bodies are $19.10 each or $152.80 for a set of eight (includes mesh filter and hood as shown in the photo to the right).
You can purchase the mesh filter ($.70 ea.) and hoods ($.60 ea.) individually.

NOZZLE JETS
The precision drop-in nozzle jets are $8.50 each or $68.00 for a set of eight. RONS nozzle jets are precision flowed and matched to ensure your engine receives matching fuel flow. This does NOT mean that the entering orifice size at the bottom of each nozzle jet will be the same in your matched set. Please note that inserting metal tools into the orifice of your nozzle jet (for measuring or cleaning) can cause damage and change the flow rate rather dramatically). Please click here to read how these nozzle jets are made.

INJECTOR HOSES
We offer the RONS premium 400 psi rubber injector hoses for $10.50 each or $84.00 for the set of eight. We also offer a braided stainless steel injector hose option priced at $145 for a set of eight (this price includes shipping). These hoses feature a male 1/8" NPT thread on one end and -3AN female on the other (photo below). Measurements are taken from the tip of fitting to the tip of fitting so please know your lengths needed when calling. 90* hose ends are available. Please call for pricing and measuring instructions.

NEW! TRACK SURVIVAL KIT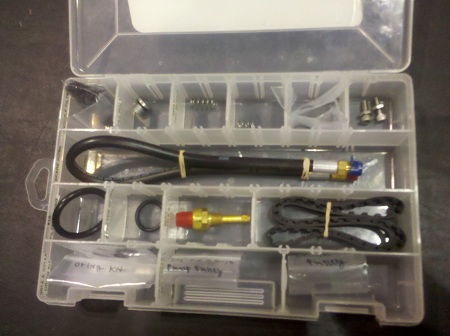 What would you give for a spare belt, spare injector line or O-ring at the track?

The New Track Survival Kit includes the above items as well as pill plug,
pill spring, O-ring kit for your specific barrel valve, fuel filter O-ring, injector,
pulley set screwsidle screws, mesh filters. $55 plus shipping
Please note when ordering this we will need to know the length of belt
and the length of injector hose you will need as well as the color of your barrel valve
and the style of your fuel pump. NO SUBSTITUTIONS PLEASE!
PULLEYS AND DRIVE BELTS
#4020 BLACK PUMP 36 TOOTH COMPOSITE PULLEY $35.00
#4019 BLACK PUMP 18 TOOTH DRIVE PULLEY (1" I.D.) $43.00
#4019-150 BLACK PUMP 18 TOOTH DRIVE PULLEY (1.5" I.D.) $54.00
#48XL037SP007 VANE PUMP 48 TOOTH PULLEY (D-SHAFT) $38.00
#24XL037 VANE PUMP 24 TOOTH PULLEY $37.00
#24XL037-1 VANE PUMP 24 TOOTH PULLEY (1" I.D.) $37.00
1/2" WIDE DRIVE BELTS $15.75 (SPECIFY LENGTH)
3/8" WIDE DRIVE BELTS $10.50 (SPECIFY LENGTH)

FUEL SHUTOFF CABLES AND CLAMPS
48" CABLE $75.89 (commonly used in door car apps)
60" CABLE $78.19
72" CABLE $80.49
84" CABLE $83.94
96" CABLE $86.24
120" CABLE $91.99
144" CABLE $97.74 (commonly used in dragster apps for dash mount)
Swing Cable Clamp $11.00
Ball Joint Cable End $11.50


RONS AND HILBORN FUEL FILTERS
RONS (#7003L) $103



RONS fuel filter is made from 6061-T6 aluminum and measures 2" x 6-1/2". This filter comes standard in all KillerRONS.COM fuel systems machined with -10 fittings. Also available (#7003L-00) is female-female configuration that can be outfitted with -8, -10, -12 or any combination of the three. The stainless steel element can be purchased separately for $17.
HILBORN (#F1200/149) $145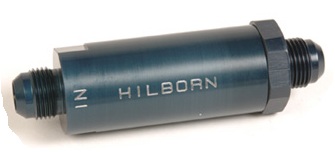 The HILBORN fuel filter is a smaller and lighter alternative measuring 1-5/8" x 4-1/2" and weighing only 7 ounces. This filter comes standard with a 149 micron stainless steel element and machined -8, -10 or -12 fittings.



SURGE TANK#7029WF (13" x 8 1/2" x 5 1/2") $325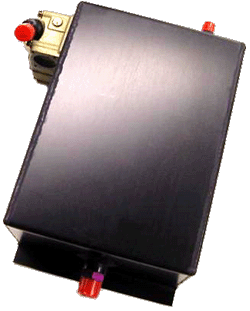 Surge tanks are required for most vehicles (doorslammers) with a rear mounted main fuel cell, relative to the engine. Note: This surge tank is not required if the user is able to reposition his/her main fuel cell to the front of the engine.If this is not done, under launch acceleration, a rear mounted cell will not be able to provide the fuel required to feed the typical racing engine early in the run. Symptoms of this will be a definite hesitation upon launch or uncharacteristically inconsistent performance due to a "lean" condition seen by the engine.

This surge tank is normally placed high in front of the engine to gravity feed the mechanical pump. One of the advantages seen in utilizing this tank is a very easy start-up procedure for the engine. The racer's existing electric pump is used to deliver the fuel from the rear cell and an incorporated float bowl is utilized to manage the incoming fuel.

The surge tank has a capacity of 1.5 gallons and has one vent (-6AN) and dual return provisions (also -6AN). The carb bowl fitting is -8AN and the bottom outlet that goes to the mechanical fuel pump is -10AN
4-GALLON VERTICAL JAZ CELL (9" x 10" x 17") $150.00
An alternatove to the surge tank is the 4-gallon vertical JAZ fuel cell. Equipped with the proper fittings for injection, this cell would be mounted in the front of the vehicle and allow you to completely remove the fuel cell and electric pump for the rear of the car. This is the preferred solution to the rear-mounted fuel cell problem as it is cheaper on the racer and keeps things quite simple. We also have other fuel cell options so call if this will not work for you.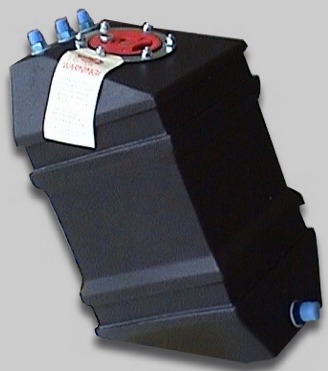 AIR CLEANER BRIDGE FOR FLYING TOILET $38.00
This handy bracket allows you to use a standard air cleaner with your Flying Toilet. Please be aware that some of the older Flying Toilet throttle bodies were not machined for this accessory. If yours is not we can handle it or you can do it yourself. This bracket adds 1.5" to the throttle body height.




THROTTLE AND SHUTOFF CABLE COMBO BRACKET FOR FLYING TOILET (#2040TB) $70.00
This bracket allows you to hook-up your Flying Toilet throttle cable and shutoff with one bracket. The below photo is shown with two optoinal #846 cable clamps sold for $11.00 each. Please specify when ordering whether or not you need the cable clamps. More scoop mount and throttle brackets can be seen here.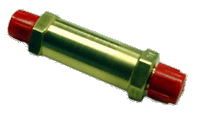 Mechanical Bypass #75425
$86.00 Optional #BON6FX6FX6M fitting for easy installation $20.00.
Installed on the pressure side of the pump, a mechanical bypass is made up of two functioning parts. A high-pressure poppet and spring dictates when the bypass is activated and a pill dictates how much fuel is "bled off" back to the tank. Both of these parts are adjustable by the experienced user. This mechanical version is preferred down track as it bleeds to full bypass more slowly than an electric version creating a better fuel curve.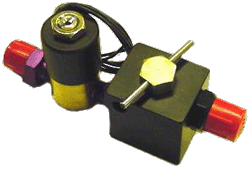 Electronic Bypass #3048
$185.00 Optional #BON6FX6FX6M fitting for easy installation $20.00.
Also installed on the pressure side of the pump, the electronic bypass is made up a solenoid and pill holder. The solenoid is activated electronically by time, RPM, activation of a transbrake, etc. and the chosen pill once again, determines the amount of fuel to be "bled". This set-up is very simple to use and can be operated in any number of ways including, but not limited, to hi-speed and lo-speed bypass applicaitons.


ALCOHOL INJECTION APPROVED THROTTLE BODY COVER and AIR FILTER
Intensity Racing Products offers this great throttle body cover (below left) to keep debris from entering your engine. $75.00 shipped. Specify wether you need this for a Flying Toilet or Terminator when ordering. Flying Toilet users will need to utilize these products with the above Air Cleaner Bracket.
| | |
| --- | --- |
| | |


EGT AND WIDE BAND 02 SYSTEMS
Professional engine builders have long utilized EGT (exhaust gas temperature) readings to determine proper tune-ups to achieve maximum performance without the worry of being too lean and causing expensive engine damage. Most recently O2 systems (wide band oxygen sensors) are becoming even more popular as they will aid in tuning in an even more precise manner due to the fact that they are able to show rich and lean spots immediately where thet happen in a pass. Only in the last couple of years has the technology advanced to the point where these units can be used in a "stand alone" manner without the aid of a data logger. Read more about these units by clicking on the photos below. We can't beat the manufacturers pricing but we can offer free shipping on these items.

Single EGT (#4105) $320.00 and Dual EGT(#4105-2) $380.00.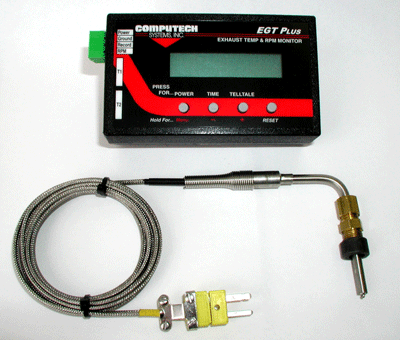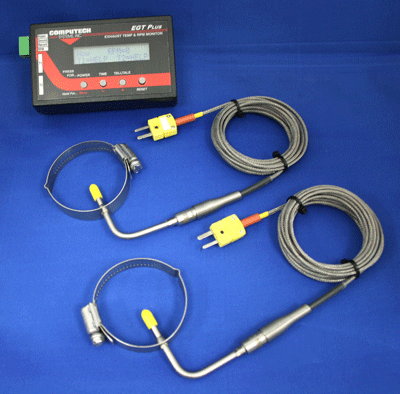 Single O2 (#4215) $435.00 and Dual O2 (#4220) $685.00.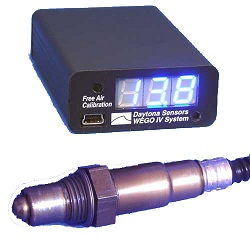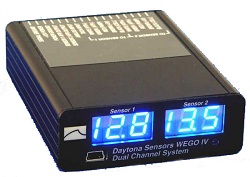 FUEL TESTING
The Computech Methanol Hydrometer Kit (below photo) is used for testing the specific gravity and purity of your fuel at any temperature. $199.00 plus shipping. For testing E85 KillerRONS.COM recommends purchasing a tester from either JEG'S or Summit. Click on the link for whichever mail order company you are partial to.