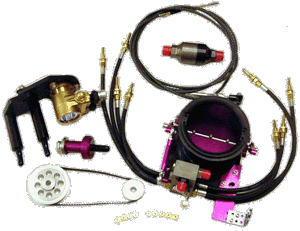 Flying Toilet Economy Kit
$1,600.00


3-3/4" 1240 CFM
4" 1435 CFM
4.100" 1800 CFM

The RONS FLYING TOILET SYSTEM is not only the most widely used but it is the "WINNINGEST FUEL INJECTION IN THE WORLD". This system has been in production almost 30 years and can be found in the winner's circle every weekend in drag racing, boat racing, tractor pulling, on the salt flats, in the mud bogs and who knows where else. This system comes complete with everything needed for a "bolt-on" installation that can be accomplished in less than a day in your shop or garage. Most importantly, it is the most affordable, and yet hassle-free, fuel system on the market and will surpass any alcohol or gasoline carburetor performance numbers, period!
The most common use for the FLYING TOILET SYSTEM is atop normally aspirated drag racing engines. That is what we focus on at KillerRONS.COM! Below you will get an overview of the three basic FLYING TOILET set-ups.
The smaller throttle body (3-3/4" Butterfly- 1240 CFM) is identifed by a black throttle blade and is reserved for 327 to 383 cubic inch engines where the owner has no plans of going bigger in cubic inch in the years to come. This throttle body typically is utilized with a "0" pump and flowed nozzle jets ranging from #29 to #35 nozzle jets.
The middle-sized throttle body is the most popular with a 4" Butterfly (1435 CFM) throttle blade. This red throttle blade unit has a wide span of cubic inch compatability ranging from 355" to as much as 502". This throttle body can work with a "0" or "0-1/2" pump and typically utilizes flowed nozzle jets ranging from #32 to #37 nozzle jets.
The biggest throttle body features a purple throttle blade and comes in at 1800 CFM (4.100" Butterfly). This unit is set aside for the bigger cubic inch/higher horsepower applications. Engines from 421" to 572" can put this throttle body to work. Typically this throttle body will be mated with a "0-1/2" pump that will feed approximately 1000 HP with as big as #41 flowed nozzle jet.
FLYING TOILET ECONOMY SYSTEM Includes:
(1) "Flying Toilet" Throttle Body
(1) Combination Barrel Valve, Fuel Shutoff and Pill Holder
(8) Injector Hoses
(8) Nozzle Bodies and Nozzle Jets
(1) Vane Fuel Pump
(1) Pump Mount and Drive Kit (Most Engine Makes Available and Listed Below)
(1) Shutoff Cable of Appropriate Length
(1) Fuel Filter
(1) Assortment of Pills
(1) 30+ Page Instruction Manual
(1) Barrel Valve Flow and Initial Tune-up by KillerRONS.COM Technician

SYSTEM UPGRADES AVAILABLE
Air Cleaner Bracket $38 (adds 1.5" to throttle body height)
Fully Bushed Shaft - $100
#75399 Idle Bypass - $86
#7031 Inline #6 Check Valve - $53
#7007 Inline Filter (-6AN) - $52
Braided Stainless Steel Injector Hoses - $85
Billet Twin Gear Pump - $100
Dual Throttle Body System - $430

OTHER ITEMS FOR CONSIDERATION
#KP995 Fuel System Hose and Fitting Kit $250
Basic Primer - $225
Primer Plus - $425
Track Survival Kit - $55
Flying Toilet Throttle Controller Extension with Throttle Cable Anchor $105
Flying Toilet Scoop Mount Kit with Shutoff Cable and Throttle Anchor- $165



FAST FLYING TOILET ANSWERS
Mechanical fuel injection operates at very high pressures so there is no worry of "fuel sloshing" under acceleration like with a carburetor. Due to this you can mount the throttle body in any direction on your engine.

The Flying Toilet's base flange is slot-drilled to work atop either a 4150 or 4500 pattern manifold. The top (air cleaner bridge AREA) is modeled after a 4150 so it is 5.00" across. The throttle body is 4.625" tall.

All Fuel delivery components are hard anodized and alcohol compatible seals are used throughout making the system impervious to the much-debated effects of alcohol on metals and rubbers.

The throttle cable lever comes standard with 10-32 thread but the lever can be changed to 1/4-28 thread if the customer desires. Throttle throw from idle position to wide open throttle is 2.00". The shaft is 3/8" in diameter and features a pair of built-in return springs and curb idle stops.

Throttle cable anchors and scoop mount kits can be seen here.

The following are links to our various fuel pump mount and drive kits. If you don't see your engine make let us know. SBC High Mount – Gear Pump, SBC Low Mount – Gear Pump, SBC High Mount – Vane Pump, SBC Low Mount – Vane Pump, SBC Aussie Mount, BBC High Mount – Gear Pump, BBC Low Mount – Gear Pump, BBC Low Mount – Vane Pump, BBC High Mount – Vane Pump, SB Ford Bi-Mount –Gear Pump, SB Ford Bi-Mount (Windsor) – Vane Pump, Ford Cleveland Mount – Vane Pump, BB Ford Mount – Gear Pump, BB Ford High Mount – Vane Pump, SB Chrysler Bi-Mount – Gear Pump, SB Mopar Bi-Mount – Vane Pump, BB Mopar High Mount – Vane Pump, BB Mopar – Gear Pump, Pontiac Mount – Gear Pump, Pontiac Mount – Vane Pump

KillerRONS.COM systems are tailored to your combination by skilled technicians who have championship level experience using these systems. In most cases your system will ship within a few business days; in some cases the very same day.

Most customers drill and tap their own manifolds following this procedure. If you are uncomfortable with this we can do it for you for for $150. Call for instructions if you would like to utilize this service. If you need a new manifold we are a dealer for Brodix, Dart and Pro-Filer and would be glad to make a recommendation for you.

Need more answers? Visit our FAQ page.