"SHORTY" RADER'S 8-71 HI-HELIX BLOWER WITH DUAL T2 FUEL SYSTEM

2010 NHRA "Super Pro" National Champion Jim "Shorty" Rader's 540" BBC was built by Freedom Racing Engines in Indianapolis, IN. This engine features a KillerRONS.COM prepped BDS 871 Hi-Helix blower set-up and complete "Terminator 2" fuel system. The Brodix Head Hunter cylinder heads are topped by an Indy Cylinder Head custom intake manifold to accomodate the raised-runner head design. This engine (shown below) dynoed in early March at just over 1300 HP and had torque numbers that exceeded 1060 FT/LBS. This was accomplished under 7,000 RPM and with only 8.5# of blower boost.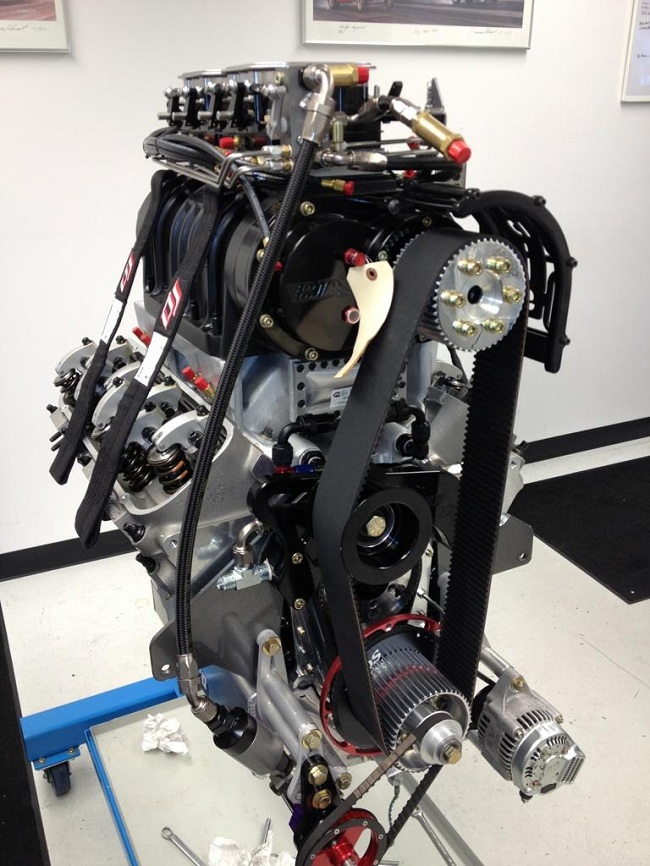 In late April Rader reported a 4.42 at 159 MPH pass at 10 psi of boost. The month of May saw Rader qualify #2 at the Bowling Green Super Quick Series event with a 4.506 at 157.36 MPH. That pass was tops in the field on the weekend. Later in the Summer Rader qualified #1 at the Bunker Hill Dragway event (below) with a 4.508 art over 154 MPH.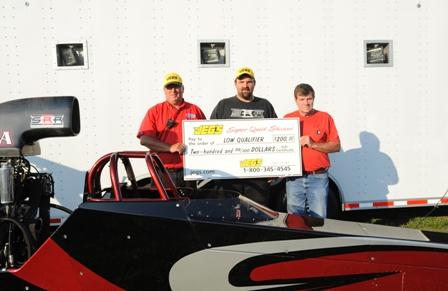 Rader has noted that after owning and racing KillerRONS.COM fuel injection systems for the past 10+ years that this set-up iss the easist starting system he has ever used and consumes less than 2 gallons per pass from trailer to trailer. He is using a standard dragster coolingh system with #8 hoses and reports temperatures of 180* upon return to the trailer. Click here to see a walk around video of this engine in the car.

On September 29 Rader advanced to the final round of Super Pro at Lyons Raceway Park running consistent 4.40-4.41 elapsed times at over 158 MPH. Rader and his opponent decided to split due to deteriorating track and weather conditions. Click on the photo below to see a video of this car in action.